Shredding Overview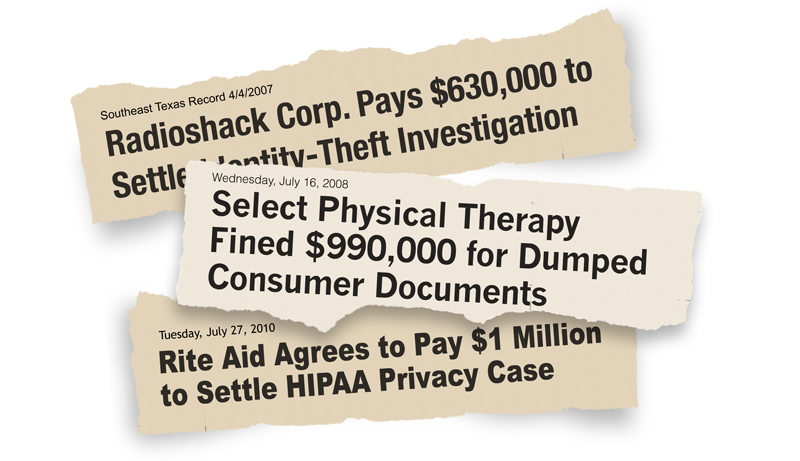 Shredding Reduces Your Liability Risks
Every business, regardless of size or industry, has at least one legal requirement to follow when destroying sensitive and confidential documents. Following these standards not only protects your customers and employees, but also protects your company's reputation and exposure. Star Stationers secure shredding services will certify that your company's confidential information is destroyed in compliance with municipal, state and federal laws, thus preventing costly lawsuits and fines. Shredding also prevents PR nightmares—you don't want to be in the "dumpster spotlight"! Read more about Legal Compliance
Shredding Prevents Information from Falling into the Wrong Hands
Professional shredding prevents identity theft and information from falling into the hands of competitors. Sensitive paperwork includes: customer lists, financial records, medical records, cancelled checks, tax records, memos, new product proposals, credit card receipts, etc. While shredding all documents makes good business sense, some sensitive papers fall under stringent compliance laws and could leave you facing liability risks and fines, if not properly handled.
100% NAID Certified
Star Stationers guarantees our partners are 100% NAID Certified (National Association for Information Destruction) and adhere to the most stringent regulations concerning security, employee hiring and screening, and the operational destruction process.
Certificate of Destruction
Your customers and employees want the assurance that their personal information is protected. When you use professional shredding services, you will receive a Certificate of Destruction after every visit. The certificate provides proof that you have properly protected and destroyed sensitive documents according to local, state and federal compliance laws.
Nationwide Service
Star Stationers offers shredding services nationwide. If you have multiple locations, you won't have to deal with numerous contacts or invoices, and you'll receive standardized pricing for all of your locations.
Environmentally Friendly
Most shredded paper is recycled and made into new paper products, helping to conserve our natural resources.
Here's how the process works:

Step One:
Sensitive documents are placed into the secure locked consoles.

Step Two:
Our document destruction truck arrives at your location.

Step Three:
Our security-screened professionals remove your documents from the secure, locked consoles and transport them to our on-site document destruction truck.

Step Four:
Your documents are destroyed behind a locked security screen at your location.

Step Five:
Once your documents are destroyed, you are given a Certificate of Destruction.